JOIN COBWFA TODAY!
Send your membership request today and receive a subscription to our branch magazine, The Maple Leaf.
Membership is C$25 per year or €35 for overseas members. Mail your cheque or money order to:
Diane Johnson, Membership Trustee and Treasurer
167 Spencer St. E.
Cobourg ON K9A 1C3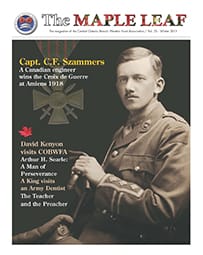 The image above is a special promo cover of our branch print magazine The Maple Leaf, which we publish several times a year. See a full sample copy of a past issue online here.