The Fall issue of The Maple Leaf is out this Saturday. Pick up your copy at our September meeting or look for it in the mail soon.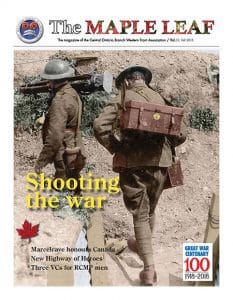 This issue's cover story features an article by member Rod Henderson on the CEF's war photographers and includes a generous sampling of their work, which includes some of the most iconic photos of the war. The work was also the subject of public exhibits in England and Canada that drew an audience of people fascinated by real scenes of the conflict.
Michel Gravel reports on the naming of the Arras-Cambrai Road in honour of the Canadians who fought their way along it in the 100 Days campaign, winning 7 VCs. "La Voie Sacrée de Canada" was dedicated in August and Michel was there.
In other stories, read about
Warm reception for Canada at Marcelcave for commemoration of the start of the 100 Days campaign
Three VC winners from the Royal Canadian Mounted Police
Three Houghton Brothers of Niagara by member David Grindlay
Update on recently completed digitization of CEF service files by Gord Mackinnon
Details of Pte. Clifford Hesch, one of the men buried in the 2nd Canadian Cemetery, Contalmaison
Members Iain Sneyd and Clare Stewart tell the sad story of their relative Lt. C.D. Hewson
Not a member yet? You can sign up today by sending a cheque for $25 to Diane Johnson, Membership Trustee & Treasurer, 167 Spencer St. E., Cobourg ON  K9A 1C3. Better yet, join us for our next meeting and sign up with Diane in person.